Your Sexual Health Matters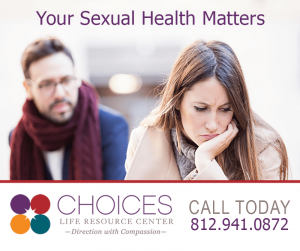 Pregnancy is not the only thing to be concerned about after having sex. STDs (sexually transmitted diseases) and STIs (sexually transmitted infections) are common. Some can be cured. Some cannot. Many have lifelong effects. Choices Life Resource Center now offers STD/STI Screening and treatment for females and males. Testing is free, but some may require client to pay lab fee.
Call 812.941.0872 for a confidential consultation and appointment.
Frequently Asked Questions
Q: So what's the big deal with STIs?
A: For starters, 1 in 4 sexually active teens has an STI according to the Centers for Disease Control (CDC). Stop and think; 1 in 4. Is that someone you know? Maybe they don't even know they've got an STI. You can't always tell.
Some STIs can make you sick today and others can cause problems later in life. Problems like cancer, infertility or death. Not exactly harmless or fun!
Q: I'm sexually active. How often should I get tested for STIs?
A: The CDC recommends STI testing any time you have had new or multiple sex partners. There are four types of sex that can put you at risk for contracting an STI: vaginal sex, oral sex, anal sex and mutual masturbation. Many infections may not cause symptoms but can still be passed between partners. Also remember that condoms, even if used consistently and correctly each and every time, they cannot provide 100% protection.
Q: Am I not tested for STIs during my yearly check-up?
A: While the services performed in a yearly check-up vary by physician, most physicians will not screen for STIs unless requested to do so. Please ask your physician for more information about what testing they routinely offer during your appointment.
Q: How do I prepare for my visit?
A: You will need a photo ID and should not use the restroom within an hour of your visit, to ensure the most accurate test results. If you have Medicaid or private insurance and would like any lab fees billed to them, bring that card too.
Q: What can I be tested for?
A: We can test for chlamydia, gonorrhea, hepatitis C, HIV, syphilis and trichomoniasis.
Q: Will it cost me anything?
A: All of our testing is free; however, some tests do have lab fees. Payment is due at time of testing.
Q: How will I get my test results?
A: STI results will take 7-10 days to receive. We will schedule a follow-up appointment for you at the time of your testing.
Q: Is it possible to stay STI free?
A: Yes. By not having sex until marriage you can guarantee that you won't have to deal with an STI. If two people get married and have never been exposed to anyone who might have an STI there is no way they can get one.
Q: Is it possible to wait until marriage?
A: Yes. More and more teens are making the choice to stay healthy not only physically, but emotionally and mentally, too.
The main negative consequences of sex are obvious:
Pregnancy
STIs
Broken hearts
These are serious and sometimes life-long consequences! Just because you are in a dating relationship does NOT mean that you need to be having sex. In fact, if you really care about your boyfriend or girlfriend you will want the best for them. Is putting them at risk of getting a disease or giving up their dream of going to college to take care of a baby, the best for them? True love is patient and willing to wait, wanting the best for each other.
You need to determine today what you will do to prevent contracting an STI. Set boundaries for yourself and tell a trusted friend to help keep you accountable. Determine where you will draw the line. Communicate your boundary to your boyfriend or girlfriend. Avoid tempting situations.
If you've already had sex, it is never too late to stop. Renew your virginity by making the commitment to wait to have sex again within your marriage. Remember, saving sex for marriage is the best decision you can make for your physical and emotional health. YOU ARE WORTH IT!
Call today to schedule an appointment.
Call 812-941-0872 to schedule a test or inquire about services.
Services are free and confidential.
*some limitations apply
Sex is a big deal.
Know the facts.
Make informed decisions.
Respect yourself.